"Rock'n'Roll like this is a rarity these days: dirty, passionate, full of anger and lust for life, without irony or distance." - Rolling Stone, Germany Influenced by 70's and early 80's Rock, The Dead Daisies sound is soulful and accessible – equal parts of Aerosmith, Bad Company and Foreigner: muscular vocals, bluesy riffs, big choruses, powerful melodies and strong hooks. With stellar musicianship and pulverizing live shows, fans worldwide are discovering the band that is bringing back Rock! The current incarnation of The Dead Daisies features guitarist Doug Aldrich (Whitesnake, Dio), singer John Corabi (Mötley Crüe, The Scream), bassist Marco Mendoza (Thin Lizzy, Whitesnake), drummer Deen Castronovo (Journey, Bad English, Hardline), and rhythm guitarist David Lowy (Red Phoenix, Mink). Since exploding onto the scene in 2013, The Dead Daisies have taken the music world by storm, releasing three studio albums and a live album to date and touring with some the biggest names in Rock including: ZZ Top, Aerosmith, Lynyrd Skynyrd, Bad Company, Judas Priest, KISS, Whitesnake, Def Leppard and the Hollywood Vampires as well as headlining shows around the world playing at prestigious rock festivals such as Download UK, Hellfest France, Graspop Belgium, Sweden Rock and the Wacken & Bang Your Head Festivals in Germany. As The Dead Daisies love a challenge, they were the first American Rock Band back into Cuba after the embargo was lifted, toured Sth Korea with the USO and played a momentous, massive Concert for Peace in Poland with a 60-piece-Orchestra. In an era where Rock has been proclaimed dead time and time again, the Daisies defy the critics with ease. Their previous studio-album, 2016's 'Make Some Noise' with twelve songs packed full of exciting Rock hooks and riffs, smashed straight into 23 charts globally. The title track "Make Some Noise", also featured in 2017 campaigns with the New York Yankees, Arizona Cardinals and NASCAR. The real Rock magic happens on-stage, with the band and audience feeding off each other's energy, which is where The Dead Daisies really excel. By capturing their show in all its loud and powerful glory, the band created 'Live & Louder' – their first ever live record, which received nothing but the highest praise from music press and fans alike following its worldwide release on May 19th, 2017. At the end of 2017, the band headed to Nashville to record their 4th studio album with Marti Frederiksen at the helm. With the masses hungering for new material, "RISE UP", the first single off the upcoming album will be unleashed on March 9th. Sporting Arenas across Europe have already started playing the song with the fans "rising up" to support their favorite teams!  The band are also currently engaged in high level discussions with major Championship NASCAR race teams regarding partnerships designed to "Rise Up" the bands friendship with NASCAR, the fastest sport on Earth.  Also, be sure to watch for some exciting band announcements later this Spring about some very special NASCAR track performances in conjunction with the US Tour. The brand new, highly anticipated album is entitled 'Burn It Down' and set for release on April 6th on Spitfire Music/SPV. Right after, The Dead Daisies will embark on yet another massive World Tour kicking off with shows in Sold-Out venues all over the UK, then seeing the band play packed houses in Europe in April & May before making their long-awaited return to Japan in June. Following up, July holds a run of gigantic festival shows featuring appearances at the renowned Rock Fest Barcelona, Rock & Blues Custom Show UK, the Steelhouse Festival in Wales and dates with the Scorpions & GnR .. Not backing down in the least, the unstoppable Rock juggernaut that is The Dead Daisies will then hit the US & South America in August, September & October. Despite this already massive schedule, more 2018 dates are yet to come!


Management: David Edwards
European Representative: Ulf Zick 
Front cover concept by Sebastian Rhode for Firmafreimauer.com / Berlin / Germany
CGI by Renato Lima and Diego Maricato / Delorean Studio / São Paulo / Brazil.
Special Thanks to Luiz Tosi, who ask us to develop the 3D art and post-production. 
We also deliver CMYK and RGB files, all elements wherein separate layers, which is our differential. We deliver the best solution for them as they have a lot of things to produce on 2018 worldwide tour. And we did that in 3 weeks. In the middle of our holidays (Christmas and New Year 2018). We love the final result.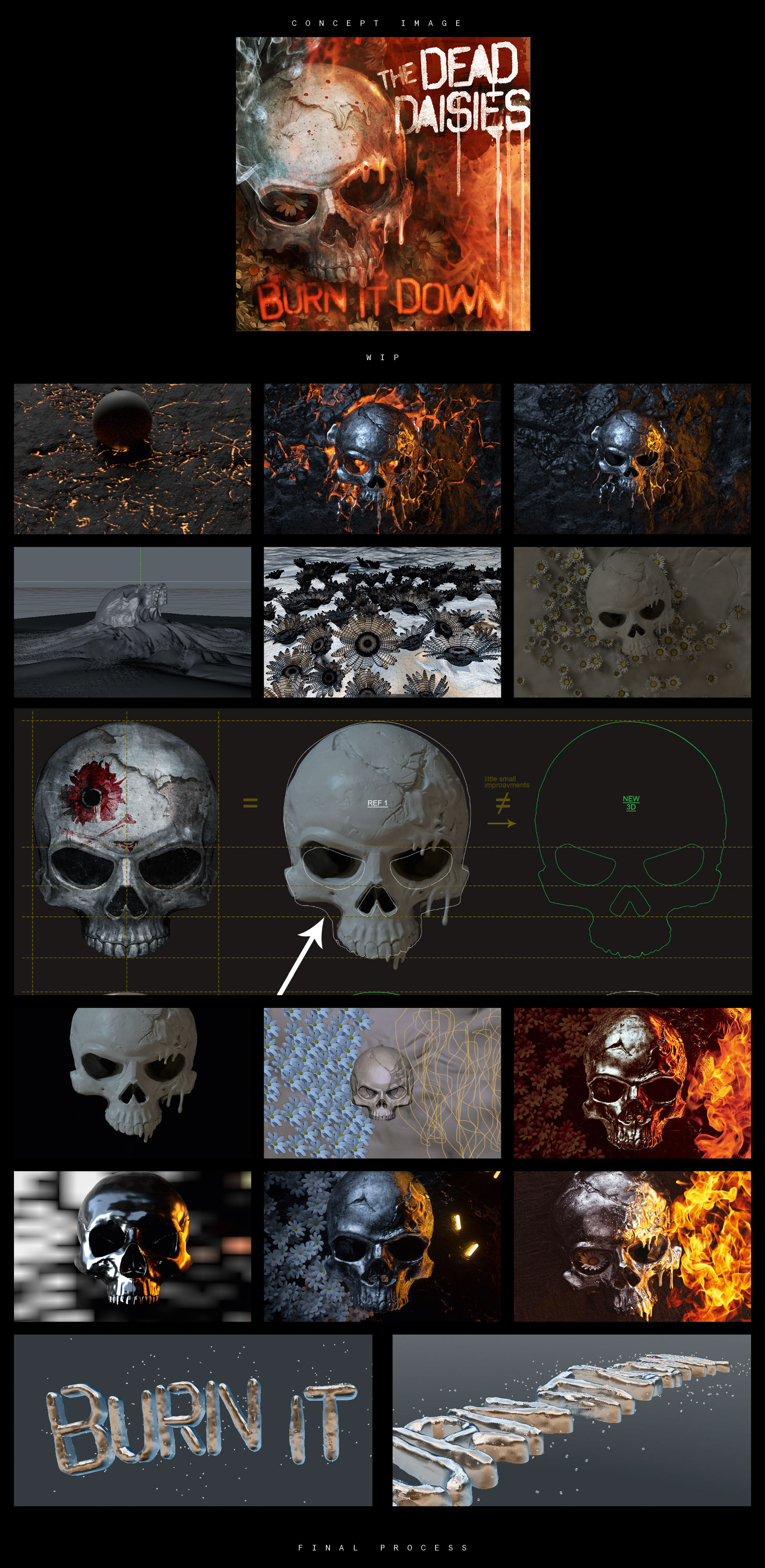 R E N A T O   L I M A   /   D I E G O   M A R I C A T O 
CONCEPT IMAGE BY: Sebastian Rohde / FirmaFreimauer.com
David Edwards, 
Ulf Zick and Luiz Tosi.